Crew-Life-Simple (CLS) Suite: At a Glance
avibright's Crew-Life-Simple (CLS) Suite uniquely combines a front-end crew application with various back-end systems that manage a series of crew related functions.
The Crew-Life-Simple (CLS) Suite simplifies crew members' work-life and facilitates their productivity, since it serves as a single central app that crew members use, in order to perform the sum of their duties.  The unique combination of functionalities of avibright's CLS enables:
employee work-life simplification
passenger service facilitation
passenger experience improvement
enhanced function related efficiencies for the airline
Crew-Life-Simple (CLS) Suite: CABIN APP & PILOT APP
The CLS Cabin App is a front-end application that integrates with all necessary airline systems (AIMS, AMADEUS, etc.), in order to both present valuable and Just-In-Time information to the crew and distribute information extracted from crew reports to relevant departments within the airline.
A condition-based rule engine ensures that only relevant information is provided automatically and promptly to different crew members, thus avoiding information overload and clutter.
Accessible online & offline through any mobile device, CLS Cabin App is a user-friendly application with high user engagement, given that pilots and cabin crew members have access to their flight rosters and can accommodate roster changes with their colleagues via the App.
Productivity is increased by timely presenting important information like passenger lists, special loads, PRMs, sitting charts, meal preferences, and any other flight-specific information.
Cabin crew members can fill-in operational and service reports offline and online at their convenience, store them locally on their devices and upload them as soon as they have access to the network. Reports are then distributed to the relevant departments, for administration and decision making.
CLS CABIN APP: Highlights

Flight Rosters

Crew Notices & Memos

Ground Handling Info

Special Meals

Training Forms

Flight Briefing

Passenger Lists

Premium Customers Complaint Alerts

Operational Service Reports

Crew Meals
CLS PILOT APP: Highlights

Flight Rosters

Journey Log

Flight Briefing

Crew Notices & Memos

Operational Pilot Reports

Training Forms

Crew Meals
CLS CABIN & PILOT APP: Key Benefits
Real-time update of operational and customer-related issues
Customized passenger service
Real-time notification of customer service-related events and immediate response
Increased collaboration between different departments
Crew-Life-Simple (CLS) Suite: REPORTING MANAGEMENT MODULE
Through the CLS Reporting Management Module, all the required pieces of information are extracted from the reports, information is then classified and automatically assigned to relevant departments. Administrators have the required tools to analyze this information, extract the useful parts, identify issues that appear systematically, log corrective actions taken, monitor that actions are effective and send feedback to the crew.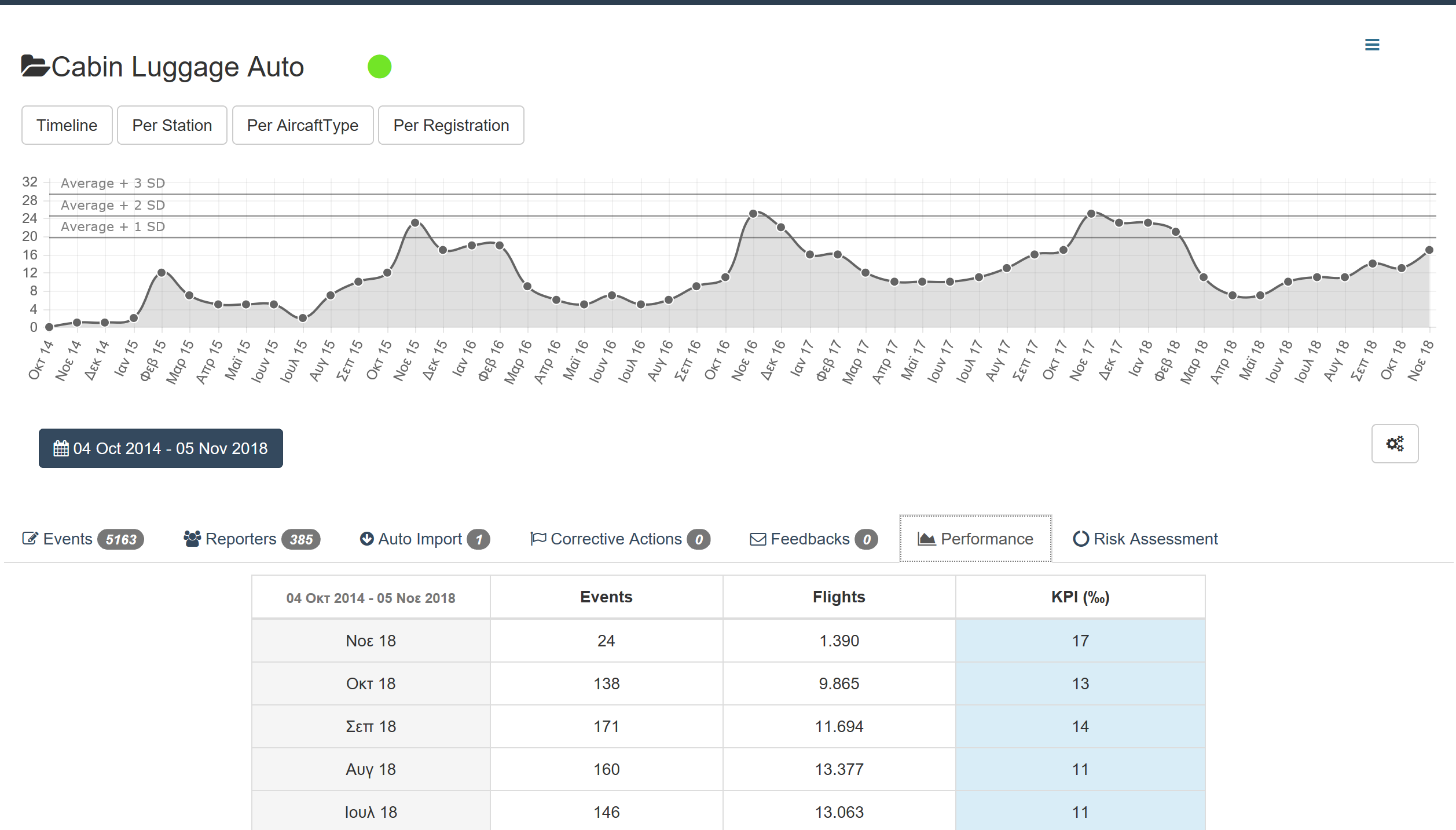 Systematic Issues Identification & Alerting
The system monitors all the event descriptors (report categories) for a given period of time (year, month, week, day) with all possible combinations (Route, Registration, Airport, etc.).
Dynamic graphs are then generated in 3 dimensions (Absolute Value, Relative Value, Accumulation of Risk Points) that help to identify systematic issues and alert the reporting officers.
Report & Issue Administration
Embedded tools allow for:
Analysis of the information from the reports;
Extraction of useful pieces of information;
Identification of issues that appear systematically;
Risk assessment & Root Cause Analysis;
Logging of corrective actions taken;
Monitoring of the effectiveness of actions taken;
Sending feedback to the crew.
Crew-Life-Simple (CLS) Suite: TRAINING MANAGEMENT MODULE
CrewLifeSimple Training Management Module is designed to transform the airline training process end-to-end. Not only it supports digitization of records (paper elimination), but it also it eliminates duplicate activities and enhances administrative efficiency of airline training.
Our solution facilitates an easy-to-use and easy-to-follow process, leading to simplification and end user satisfaction. Its architecture and integrations with other systems enable the significant reduction of man hours required to support airline training activities and the improvement of trainee and instructor experience on completing the training forms easily, without waste of time and energy.
While most other Airline Training Management Systems (TMS) require admin staff to manually enter the training records and crew qualifications into both:
the airline's Rostering System and
the scheduling module of the airline's TMS,
our system integrates with the airline's Rostering System, so that administrators can readily connect the training courses they create with the duty codes and flight training indicators.
Thus, Scheduling and Qualification Management is only done once, within the airline's Rostering System, to avoid errors and extra workload.
TRAINING MANAGEMENT MODULE: Highlights
Automated Scheduling of Instructors & Trainees via integration with the Rostering System
Accommodation of both Flight Crew and Cabin Crew training
Customizable courses and syllabi
Multiple grading options: (a) Competences and Observable Behaviors; (b) 1to5; (c) Pass | Fail | Pass with Training Recommendation
Course and candidate progress tracking
Power BI analytics and custom reports
Support for: AQP | ATQP | EBT
Cloud-based or on premises/ hosted solution
Easy-to-use web application, available online & offline
TRAINING MANAGEMENT MODULE: Key Benefits
Enhanced administrative efficiency and improved User Experience
Paperless process that annihilates storage costs
Valuable insights extracted from digital records and BI dashboards
Streamlined and valid Competency and Evidence Based Training
Real-time monitoring of the end-to-end processes
Crew-Life-Simple (CLS) Suite: CREW MEALS MANAGEMENT MODULE
The Crew Meals Management Module gives the opportunity to flight crew and cabin crew members to choose and preorder the meals they wish per flight.
The system achieves both employee satisfaction and very significant cost savings given that the typical percentage of crew meals that are not consumed, is approximately 40%.
Furthermore, the accurate estimation of meals needed as well as the fact that those meals are actually consumed by crew members, reduces food waste, thus has a positive environmental impact.
CREW MEALS MANAGEMENT MODULE: Highlights

Crew Meals Cost Forecast

Automatic Calculation of Crew Meals Requirements

Crew Meals Order is Sent to Catering Provider

Auto Alerts From Crew Route Changes & Updating of Orders

Reporting & Data Analytics
CREW MEALS MANAGEMENT MODULE: Key Benefits
Increased employee satisfaction
More than 80% reduction of the admin duty days needed for crew meals management