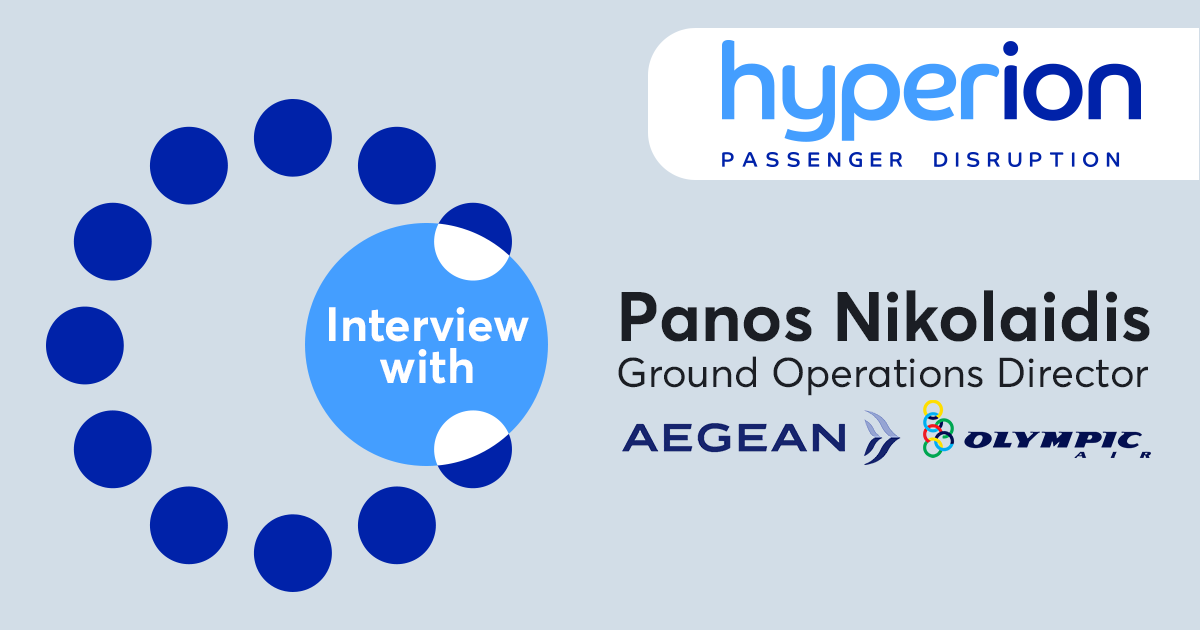 HYPERION – Passenger Disruption Management System by avibright
Hyperion is an integrated system that enables the teams responsible for disruption management, to handle affected flights and accommodate customers in a timely and cost efficient way. The aim of this solution is to gather, consolidate, summarize and analyse operational data, coming from various sources, through a single interface to simplify decision making and automate processes. It does this by automatically producing several possible solutions to each situation, giving the airline customer care agents the ability to choose and implement the best possible one.
Through an advanced smart and colour-based notification system, the agent has quick and real-time information on:
possible delays,
misconnections,
actions required for a flight (e.g. provide meal vouchers to passengers),
flights marked as "important",
flights marked as "no further actions required",
aircraft modifications.
Furthermore, in case of discrepancies between DCS and the operational system of the airline, the agent is notified through a Synergy Hub and can update DCS with the click of a button, without leaving Hyperion's interface.
Interview with Panos Nikolaidis, Ground Operations Director at Aegean Airlines and Olympic Air on HYPERION
Lately Aegean is introducing a lot of digitalization in several functions / processes. Mr.Nikolaidis, what is the relationship of Aegean with digitalization?
Our primary and first focus is the customer and offering the best and up-to-date services and products, which will always make the journey with us a nice and relaxing experience. Having said that, when designing or reviewing a process or a product, we always ask ourselves: "How can we make it digital? How can our customers benefit from the vast area of opportunities that digitalization offers, in order to enjoy better service and care from us? How our people's daily activities can be easier by using technology in order to offer better services at all circumstances?"
So yes, we believe a lot in the digitalization which gives even more power either directly to our customers or indirectly, via our people who are in front and behind the scenes, working on offering to them the best travel experience whatsoever.
How does Aegean feel about automation?
Well, we feel happy that we live in this era of innovation and advanced technologies which make our lives easier. Of course, we see automation as a helping tool and not as something that replaces the human interaction.
Aegean for the past year introduced a big digital initiative around disruption. What is disruption for you?
We all know that, at some point, things will go wrong. At this exact moment, when the operation is not evolving as originally planned, for example, due to bad weather conditions at a specific destination, we know that this is where we need to put extra focus and care to our customers.
Therefore, disruption for us is something expected and it is an opportunity to show to all those people who chose traveling with Aegean, that when things go wrong, we are there, we are prepared and we take good care of them, while minimizing as much as possible the inconvenience that a flight disruption may cause to them.
And what have you done around disruption?
In cooperation with aviBright, we have developed our own Passenger Disruption Management System, called Hyperion, which is used by our Customer Care Center, a 24/7 team located inside our Operations Control Center in our head office in Athens that is responsible for all passenger disruptions.
Using Hyperion, this small team easily identifies disruption and acts proactively instead of reactively.
Via integrations with our core systems (PSS), we provide true personalized service to disrupted customers by sending out automated notifications.
How did you identify the needs behind Hyperion?
When we looked at disruption, we saw that there was a lack of ownership. This led us to believe that we need to establish a Centralized Disruption Handling Team (Customer Care Center).
Then, we also identified the need to eliminate queuing from airports during disruption.
There were people queuing at the airports waiting just to be informed about the flight they are re-protected, find out their rebooked flights or get directions on what they should do next (e.g. how to go to the hotel they are accommodated).
It became very clear to us, that we needed to find ways to reach out to our disrupted customers and push the information to them, on what actions we have already taken in respect of their care.
And how did you move forward?
We combined our business know-how with our software partner's (avibright) technology know-how.
avibright helped us to transform our business requirements and our vision into a Passenger Disruption Management application: Hyperion.  The tool was easily adopted and used by our people and we had a really smooth transition to providing the new digitalized services.
And what does Hyperion do exactly?
Hyperion integrates with our systems (e.g. PSS) and our partners (e.g. hotels) and is pushing real time notifications to disrupted customers including their vouchers (snack/ meal / compensations) and hotel accommodation.
The main benefit of Hyperion is the improved customer satisfaction, achieved through the identification of each passenger's needs and the provision of true personalized service. At the same time, we now handle disruption through a single interface, removing user friction and the constant need to train agents on how to use different platforms.
In addition, we now have a very detailed analysis of data related to passenger disruption costs.
About Panos Nikolaidis
He is the Ground Operations Director of Aegean Airlines and Olympic Air, managing 35 domestic and over 120 international airports. His responsibilities cover Customer Experience, including Customer Care Center and Customer Relations. He is also responsible for Ground Handling agreements and Airport Contracts, Cargo Operations, Airport Services continuous improvement projects, Ground Operations Safety, Lounges, Baggage and Ground Operations digital products. 
Under his leadership Aegean Ground Operations launched several digital products for IRROPS handling, under the code name Ariadne, such as digitalization of snack and meal vouchers, hotel accommodation, monetary compensation, re-accommodation of customers and the notification of these to customers. Also, the creation of the automated generation of baggage PIRs for all Aegean customers, as well as multi-dimensional analytics for Baggage Performance & On-time Performance.