Aircraft engine inspections is a painstaking job that requires correct documentation of findings; Filled reports and collected media (photos and videos) are commonly entered manually and stored in excel files and complex file systems, leading to unorganized and time-consuming management and handling of the collected data generating several issues. aviBright Borescope Engine Inspection App addresses this problem giving inspectors the means to fill reports and store relevant media on the spot in one repository, and airline companies the ability to keep track of engines inspections history.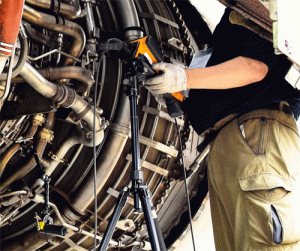 This application allows airlines to solve and avoid critical issues. By keeping inspection reports and relevant media in a repository, Inspection Management Team can extract engine statuses accurately and timely and correct possible mistakes. This process helps enormously the planning of on-time future inspections and gives instant access to the history of the engine's inspections or even the inspection history of a specific engine module.
Moreover, through role-based personalized notifications, inspectors and the management team can be informed on tasks, duties, equipment related issues (borescope calibration) and eminent scheduled inspections.
Gaining insight and efficiency
The aviBright Borescope Engine Inspection Management application offers some really useful benefits for both the airline and the inspector. Airlines' Inspection Management Team can:
Eliminate data-entry, given the fact that the inspection report is filled electronically and not by hand.
Have accurate knowledge of the entire engine fleet status at any given time
Have an overview of the completed inspection report accompanied by the relevant media (photos, videos) that document any detected issues.
Have easy access to the history of any engine's inspections or even the inspection history of a specific engine module.
Plan accurately future engine inspections, cutting down the expenses that derive from early or belated inspections.
Achieve fast and efficient communication with inspectors, notifying them through the application for assigned duties.
Extract inspection data in pdf/excel format for official use, through the reporting module.
Minimize the human error  factor by validating the data inserted into the application, using business logic (numeric values validation, preventing abnormal data)
Keep an up-to-date record of the personnel's actions, storing the history of individual work.
On the other end, inspectors can:
Fill on the spot their borescope engine inspection report, through an easy-to-use UI, storing at the same time any media files.
Be notified on assignments for engine inspections or other duties or tasks through the application.